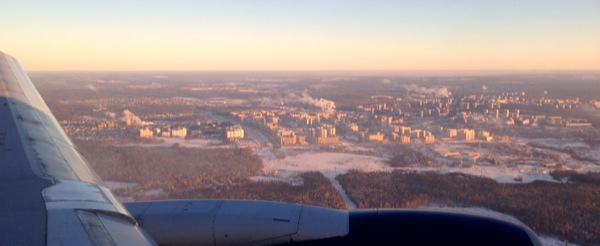 [1200 Monday afternoon, DL2408 ATL>JFK, Seat 11A]
Is this real life? I got to the Atlanta airport this morning a few hours earlier than I normally would. I walked up to the Delta counter and handed over my passport.
"Do you have a Visa?" the desk agent asked, so I pulled out the brightly colored folder that houses the Olympic credential doubling as a visa. As I hand it to her, she gives it a funny look. "I've heard of these, but this is the first one we've seen! Do you mind if I show it around to the other agents?!"
I check my overstuffed Red Oxx bag and retrieve my documents, but not before she showed all her friends and snapped a few pics for her Instagram feed, no doubt.
Next stop, Travelex in the International Terminal. Based on the current exchange rate, $600 netted me 18,000 Rubles, so I contemplate making it rain on the concourse. But I'm not yet sure what food and expenses I'll incur over there, so I don't know if this will last me for one week or six.
From there I got waved into the Sky Club in the middle of Concourse A without having to pay the $25 fee I expected. Travel days can often go well or really badly, but this one is shaping up quite nicely so far.
In the Sky Club munching on a toasted bagel I watched CNN report on the terror threats levied against my current destination. Reports on warships converging on the adjacent Black Sea. The State Department warnings to avoid wearing US gear outside the Olympic Park walls. The Black Widow.
I've been asked a lot in the last few weeks if I was nervous or scared. In a way, of course. I have no clue what the next month is going to look like. I'm nervous in the same way I was to do yoga for the first time. I'm nervous in the same way I've been to show up to the first day at a new job site a hundred times in the past few years, and in the way that I am about sailing around the world.
[Flight attendant a few minutes before pushback: "Sir, are you Mr. Cordle?" "Um…maybe…" "Would you like to move up to seat 4A?" "Yes. Yes I would."]
[1400 Monday afternoon, Delta 2408 ATL>JFK, Seat 4A, rum & coke in hand]
Where was I? Oh yea. Sure, I'm a little nervous.
I recognize there are a lot of concerns about the safety situation in Russia right now. But have you watched the news lately? There are safety concerns at your local Wal-Mart.
As with everything, the outcome may be uncertain. Therein lies the adventure. I'd much rather spend my time thinking about how I'm going to live than how or when I'm going to die.
[0830 Tuesday Morning, DL466 JFK>SVO, Seat 17A]
No free upgrades on this flight, although I do have a row in Economy Comfort to myself, so a complimentary red wine made sleep a little easier.
After what felt like a decent nights rest I woke up to find that we still had over 5 hours left to fly. The next time I woke up we were above Iceland, but either there's nothing there or the clouds were thick, because no lights were to be seen from my window.
In Atlanta I'd taken my boots off after clearing the TSA Precheck line at security, opting for sandals. Now I'm staring out the window at the sun coming up over a frozen Russian tundra, thinking I should revisit that decision.
[2330 Tuesday Night, Hotel, Adler District, Sochi]
Once I got off the plane in Moscow, the below zero temps (-4F to be precise) prompted a footwear change.
Once we cleared customs and retrieved our bags, one of the loudly dressed Sochi Volunteers walked us to the Aeroflot ticket line to check in for our domestic flight to Sochi.
Security screened my bag and relieved it of a couple of 5-hour energy drinks, throwing one out & pocketing the other. I get the feeling I'll have a tough time replacing those in country.
I also got scolded for putting my boots in a chair instead of on the ground while I was getting ready to put them back on. Boots go on the ground next time. Noted.
At baggage claim I'd ended up by chance meeting two of the guys I'll be working with this month. Once we cleared security we noticed the sign for the Business Lounge and decided to give it a shot.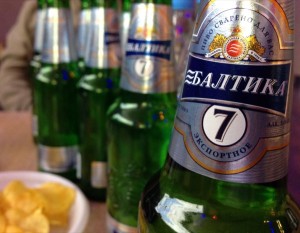 I'm not sure exactly which piece of logic worked on them, but after handing over every document we had, they agreed that we should be allowed in free of charge. This led to my first Russian Beer experience, and I was pleasantly surprised. It was on par with a beer you'd expect to come in a green bottle; a Stella or Rolling Rock would be a good comparison. Don't ask me how to pronounce it though.
The two & a half hour flight from Moscow to Sochi felt much longer than it was. Possibly due to the aisle seat with no window to look out, possibly due to the 10 hour time change confusing my body to no end, & possibly due to the guy beside me who kept sneaking puffs from a vapor cigarette while reading Playboy.
Regardless, we finally landed in Sochi, got our credentials laminated, and met up with our coordinators. After a quick shower at the hotel/apartment building, a few of us directors and engineers met with our Executive Director for a nice dinner.
I wasn't sure what to expect from Russian cuisine, but the fried cheese wedges and pork stuffed cabbage stole the show in my opinion. One guy swore by his entree of "goldfish", but I wasn't brave enough to go there. I'm learning that often the English translations are much more comedic than accurate.
So to wrap up a travel day that I can't begin to do the math on how many actual hours I've been on the move, I'm laying here on the floor of my room typing on my laptop in the one corner where the wifi tends to hide.
Tomorrow will begin around 10am when I get to go see my venue in the Olympic Park/Coastal Cluster. I'm told the work day here doesn't begin early & I'm certainly not going to complain about that.
If you have any questions or if there's anything in particular you'd like me to cover while I'm over here, leave a comment and let me know!
---
Bo is currently based in Orange Beach, Alabama working towards checking #31 off his bucket list. If you'd like to be a part of the adventure, consider sponsoring a mile. To get more info on the curriculum, sign up here.
---