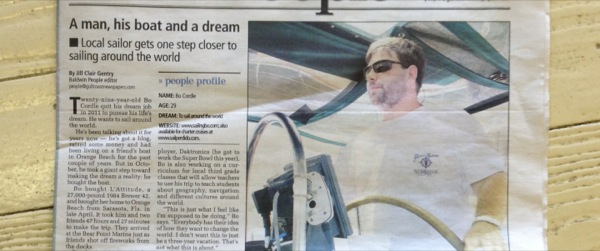 By Jill Clair Gentry
The following article first appeared in The Islander on June 18, 2013. Reposted here with permission.
Local sailor gets one step closer to sailing around the world
Twenty-nine-year-old Bo Cordle quit his dream job in 2011 to pursue his life's dream. He wants to sail around the world. He's been talking about it for years now — he's got a blog, raised some money and had been living on a friend's boat in Orange Beach for the past couple of years. But in October, he took a giant step toward making the dream a reality. He bought the boat.
Give me some (L)attitude
Bo bought L'Attitude, a 27,000-pound 1984 Brewer 42, and brought her home to Orange Beach from Sarasota, Fla. in late April. It took Bo and two friends 47 hours and 27 minutes to make the trip. They arrived at the Bear Point Marina just as friends shot off fireworks from the docks.
Randy Smith, one of the friends who helped Bo bring L'Attitude home, says he knows a lot of people who want to sail around the world, but hasn't met anyone in their 20s who is actually taking steps to do it.
"It takes a special attitude and ambition to take on a project like that at 28 years old," Randy says.
And now that Bo has the boat, he has a timeline for leaving on his trip — a year and a half to two years.
"Getting the boat was huge," he says. "Now it's more about trying to learn about the boat and getting the bank account right."
In addition to attending conferences about boat engines, chartering people on sunrise and sunset cruises and doing freelance LED scoreboard work at stadiums and arenas around the country for his former employer, Daktronics (he got to work the Super Bowl this year), Bo is also working on a curriculum for local third grade classes that will allow teachers to use his trip to teach students about geography, navigation and different cultures around the world.
"This is just what I feel like I'm supposed to be doing," Bo says. "Everybody has their idea of how they want to change the world. I don't want this to just be a three-year vacation. That's not what this is about."
Bo wants to share his dream with as many people as possible. He has a blog, www.sailingbo.com, and if a supporter wants to donate to his trip, they can sponsor a mile for $10. In return, he'll send them a few postcards from around the world and keep them updated.
GPS tracking software is installed on the boat so Bo can share his location with his supporters, and he plans to make videos that document the trip in a detailed, entertaining way.
Setting a course for living the dream
Bo is originally from Newnan, Ga. and did not grow up sailing.
His fascination with sailboats was sparked after reading the true-story-turned-book "Maiden Voyage" by Tania Aebi, a troubled teen who was given a choice when she graduated high school to go to college or to sail a 26-foot sailboat around the world alone. She chose the boat, and it changed her life. Reading it changed Bo's life, too, and he's read the book at least 15 times now.
Bo's first boat was a 19-foot sailboat he found under a pile of pine straw at Lake Lanier in Georgia. His junior year of college, he bought a 25-foot boat and took a semester off school to learn about it.
He jumped into real sailing on a terrifying trip to Key West.
"I had no idea what I was doing," he says. "But I learned really fast on that trip."
At this point, Bo decided he would sail around the world if, when he turned 28, he wasn't married with kids and a house.
So on his 27th birthday in 2011, he turned in his resignation to Auburn, where he had been running the high-definition scoreboards for three years — his dream job. His last game was Auburn's National Championship game in Glendale, Ariz.
"I was fortunate enough to be put in the position to have a unique skill set that allowed me to have a great job," he says. "But it wasn't sailing. I feel like I'm doing exactly what I'm supposed to be doing now."
---
Bo is currently living in Orange Beach, Alabama working towards checking #31 off his bucket list. If you'd like to be a part of the story, consider sponsoring a mile.
---